Sexy Little Things Noir – Scented Body Mist 75ml
A glamorous sheer fragrance mist. Sexy Little Things Noir™ is an alluring blend of sparkling nectarine, amber and cattelaya orchid.
Dream Angels Heavenly – Angel Mist 75ml
Give in to ethereal romance. Soft and smooth with a creamy blend of white peony, soft vanilla and creamy sandalwood.
Very Sexy® Very Sexy® Sheer Sexy Mist 75ml
A lighter version of the same Very Sexy® scent updated with a provocative new look. Layers on sheer, sexy fragrance and moisture. With a blend of camellia, hydrangea, mimosa, vanilla orchid.
Victoria's Secret Bombshell Body Mist 75ml
Sexy today. Sexy tomorrow. Sexy forever™. A glamorous blend of purple passion fruit, Shangri-la yellow peony and vanilla orchid.
Price: RM190 / set
Shipping: RM 8 for Peninsular Malaysia (or RM 11 for Sabah & Sarawak) / set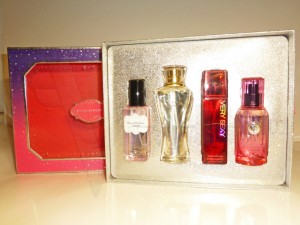 Tags: angel, body mist, bombshell, dream angels heavenly, gift set, sexy little things noir, sheer sexy, special, Very Sexy, Victoria's Secret